Here are 5 Benefits of Voice Broadcast service.
1. Reach more customers quickly and easily
Through mass voice broadcasts, you can contact dozens or even hundreds of customers simultaneously. You can easily set up an automated AI-powered Virtual Assistant or Automatic Call Dial to contact your targeted audience and get your message heard by the people who are more likely to take desired action. You can leave out the customers who selected the opt-out option and thus maximize the impact of your marketing.
2. Greater success rates
Customers often ignore confirmation SMS, emails, social media messages, etc. But most people don't ignore phone calls. Unlike email marketing whose 'open rates' are very low; voice broadcast can be a more successful medium to get (and keep) your customers' attention.  If used judiciously, it can provides a great way to connect with customers and have them listen to your marketing messages. You can also send people from your voice broadcast straight to your IVR (interactive voice response) system to answer their questions or provide more details. Through a reporting functionality, this also provides a great way to gather customer feedback or understand customer behaviors or preferences.
3. Voice messages feel more personal than mass emails or SMS
Bulk messages usually feel impersonal and invasive. Voice messages can be customized to connect more effectively with customers and create a strong bond. Hearing a voice on the other end – even if it's a recorded call – increases the chances that customers will listen to your marketing message and respond positively. You can set it up in a way that enables customers to connect with a real agent or operator immediately for a live conversation. This increases the personalization and feel- good factor.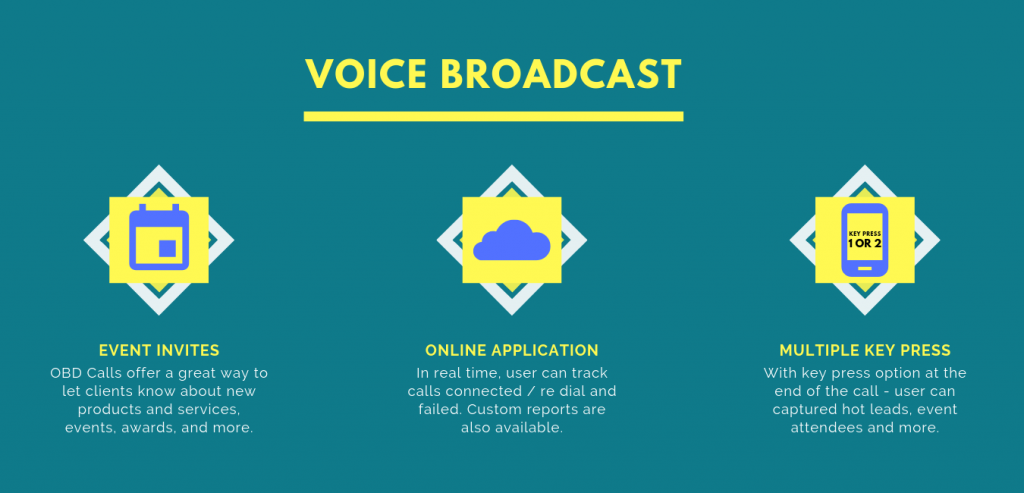 4. Cost-effective marketing tool
Compared to billboards or TV ads, voice broadcast marketing is a cost-effective way to advertise your business, announce special promotions or events, or simply touch base with your customers. And often, all you have to do is simply pay for the number of voice messages you send. This pay-for-what-you-use model ensures that you stay within budget and helps you maximise your marketing ROI.
5. Can be scheduled as per your convenience or business need
Voice broadcasts can be scheduled and sent at the time of your choosing. This not only enables you to simplify and automate your marketing strategy, you can also pick a schedule that maximises the impact of your message.