About Softype
Softype Inc. is a technology solutions company focused on providing relevant solutions, best-of- breed consulting and implementation services. Softype works with companies who need to digitize their processes associated with the running of a business in an efficient, streamlined and scalable manner. Through this digitalization, customers are able to be more agile and adept with their business operations. Softype has expertise in the delivery of Oracle NetSuite (ERP), Workato (intelligent integration and automation platform), StoreHub (Cloud POS). The company has extensive process experience in the areas of retail operations, wholesale distribution, real estate, transportation and logistics, education and services. Through its own methodology, developed over the past decade, Softype is able to deliver more than 80% of the work in 100 days or less with excellent results enabling customers to immediately realize return of their investments in digitalization. For more information, please visit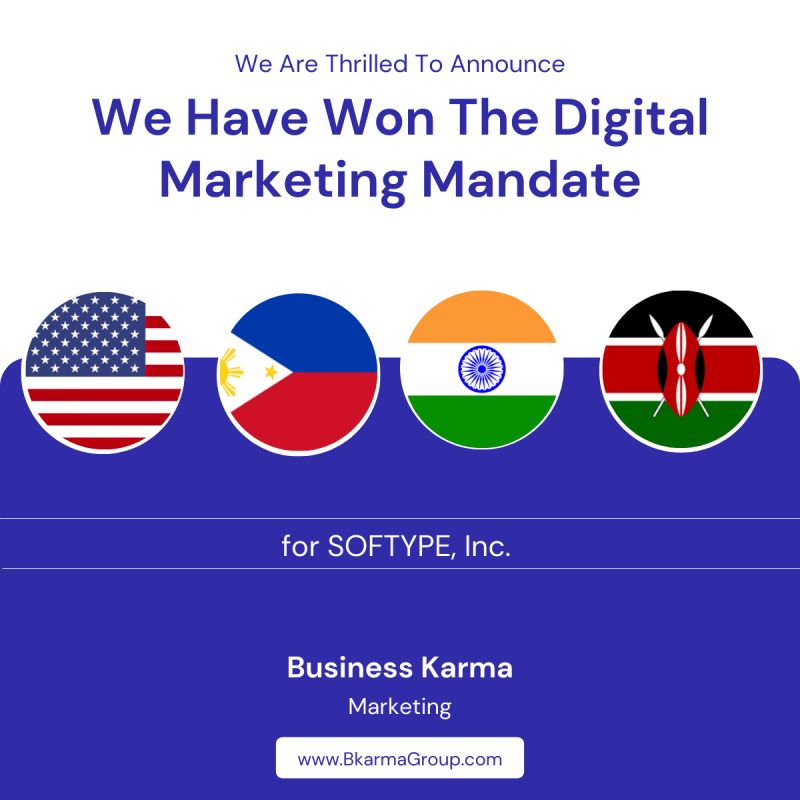 Hardik Shah, Founder and CEO, Business Karma Marketing
, said "Softype has a long history of successful ERP system implementations, Business process consulting & Integrations. This appointment gives us an opportunity to strengthen our portfolio of Global B2B customers. We look forward to using our data-backed, creative approach to create digital outreach campaigns which will be relevant to Softype's target audience and help Softype build a strong connect with those audiences in the markets that they serve.
Nana Luz, Co-Founder of Softype
said, "This appointment will create awareness about the world-class IT consulting services provided by Softype. It will further create an opportunity for global and local business owners and entrepreneurs from these geographies to work with us. Additionally, this will help strengthen our brand in our newest region of operations, the Southeast Asia region."
Randy Galope, VP Sales, Softype Philippines
added, "Softype has always been breaking stereotypes and we look forward to communicating our mission and skillset. We are confident that the digital outreach campaigns that the company is undertaking, will help us build a more engaging narrative around our work."
About Business Karma Marketing
Business Karma Marketing is a Mobile & Digital Marketing company that provides Integrated Marketing Solutions to leading global and local brands. The company has wide expertise in running successful campaigns for B2B IT companies. The company has identified the following business virtues to drive its workforce: . Solidarity . Make It Happen . No Guts, No Glory For Business Karma, Passion and Persistence are what help them grow. Business Karma describes its workforce as a team that is Passionate about marketing and Persistent in its efforts to learn and implement new ideas and concepts in marketing.