5 Compelling Reasons To Hire A Digital Marketing Agency

How content marketing can help in customer engagement and lead generation?
Maximise your mobile marketing ROI.
In 2019, globally 90% of internet time was spent on Mobile devices. This is why the mobile phone is one of the most powerful devices in the world today. It enable social engagement, influences marketing and business in myriad ways. Mobile Marketing empowers businesses to target the right users, improve customer engagement and increase their bottom line. Ultimately, brands that incorporate mobile campaigns into their overall marketing strategy can reach larger audiences by focusing solely on desktop or offline marketing.
So how does Mobile Marketing help with generating leads and boosting sales?
#1. Through mobile-optimized opt-in forms
An opt-in form targeted specifically for mobile users can generate more leads than a single generic form implemented across all devices. If designed well with a limited number of form fields, it can fit perfectly on the mobile screens of on-the-go, impatient users.
#2.Through a strategic, well-planned text messaging campaign.
Text messages are a great way to reach potential customers, if planned and implemented well. Offer an exclusive promotion, special offer or limited-time deal with a clear Call to Action and encourage them to engage with you. Keep it short and to the point, and you can get more qualified leads at a fairly low cost.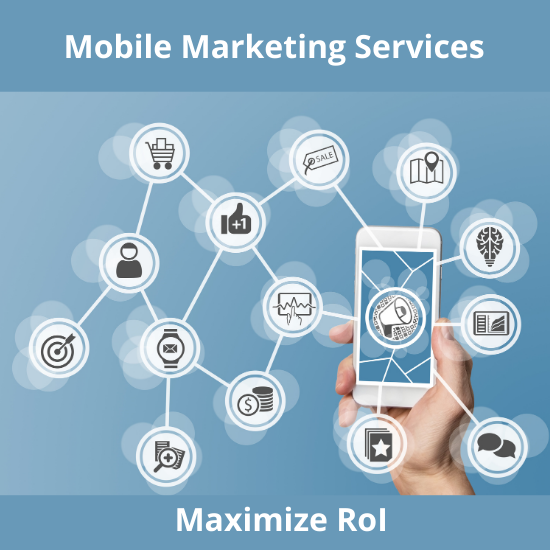 #3. Through compelling content that is channel-specific.
When content is properly matched to the appropriate channel, it is more likely to generate qualified leads. For example, Instagram is great for product promotions through influencer marketing, but Facebook is a better avenue to reach a more general audience. Of course, once you identify the right platform, you also need to ensure that you provide content that leads find useful.
#4. Through location-based campaigns.
Mobile Marketing works especially well at lead-generation if campaigns are designed for local users.
-> Optimise your website for your location (you can be as hyper-local as you like!). -> Include a map so people can find you. -> You can even purchase geo-aware ads for customers located within a certain radius of your business. -> Or you can use geo-fencing to target leads in a different location through ads.
#5. Through PPC advertising optimized for mobile.
Mobile users are more likely to click on ads on Search Engine Results Pages than desktop users. Ad should be attractive and addresses your target group's particular challenges. It should be backed by a mobile-optimised website or landing page, then you can increase the number of qualified leads coming in.
To get more leads with Mobile Marketing and maximise your marketing ROI:
1) Set up a mobile-friendly website and lead-generation forms 2) Run geo-targeted ads on social media 3) Design a compelling SMS marketing campaign 4) Create simple Call to Actions in your ads, SMS messages, videos and forms Business Karma is a premier mobile marketing agency in Mumbai. We specialize in designing and implementing strategic campaigns to generate more leads and boost your sales. Send us an enquiry at sales(at)bkarmagroup.com.